Yes truly excited and rasa sangat bertuah!! Sepatutnya I post entry lain dulu but this one memang tak boleh tunggu dah. =)
Last saturday night we had a dinner with pasangan CDM yang memang cukup hebat dalam bisnes
Premium Beautiful
tak lain tak bukan
CDM Hanis Haizi
& CDM Razali Zain. Bukan sahaja hebat tapi famous mengalahkan celebrity. Curlassss okeh!! Tak cukup dengan itu kami memang rasa sangat-sangat bertuah sebab
CDM Sha Khalid
pun sanggup turun JB untuk jumpa kami semua and bagi kata-kata motivasi dan semangat untuk terus maju dalam bisnes ni. Ya Allah..memang sangat-sangat bersyukur dipertemukan dengan bisnes yang hebat. Bukan bisnes je hebat, leaders pun hebat-hebat belaka.
Peluang macam ni memang susah nak dapat. Ye lah..kami di JB, leaders di KL tapi itu semua tak jadi halangan untuk terus maju dalam bisnes ni. Kalau kita nak berjaya, letakkan halangan tu kat belakangggggg sekali. Tengok peluang dan bukti yang dah ada depan mata. Adalah rugi kalau tak grab peluang bisnes ni.
Okay back to the story. Sorry lah ye. Happy sangat dapan duduk semeja dinner dengan insan-insan yang punyai income 6 angka sebulan. Fuhhhh!! Memang tak mustahil dengan bisnes Premium Beautiful.
Me with CDM Hanis yang tengah syok menikmati ketam cili + telur pecah. Not sure apa nama sebenar menu tersebut tapi serious memang sodap kan Hanis..=)
Informal dinner at Anjung Senibong Village. Restoran 6 Corner menjadi pilihan sebab masakan diorg memang sangat sedap. Memang sangat casual, sambil makan sambil borak-borak sambil bergurau senda & ketawa. Memang happening sangat!
CDM Hanis & CDM Raz. Lovely couple :)
Itu diaaaa..ketam, ikan bakar, sotong nestum. Ada lagi menu yang belum sampai.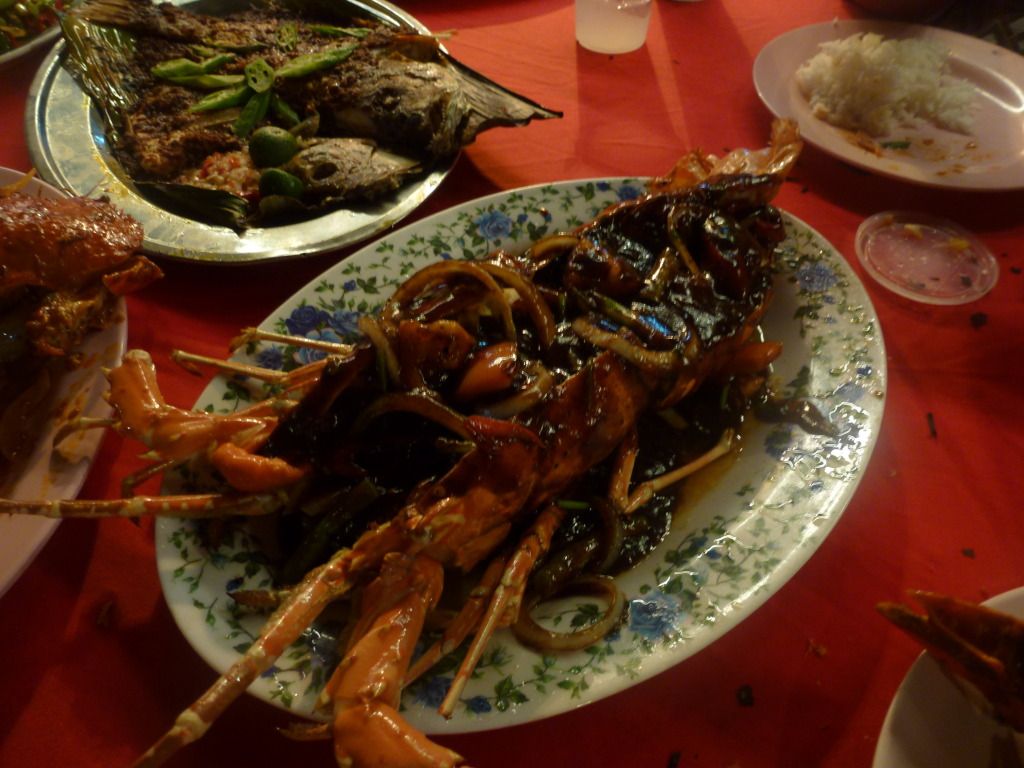 Lobsterrrr!! menu pilihan Hanis. Seriously memang terbaekkk!
Hubby terchenta, Duan, Fariz, Ija & Sha. Dah macam 1 family dah kitorg.
Sorang sibuk senduk nasi rajin betul DDM Ieja, sorang dengan iPhone, sorang lagi tengah simpan galaxy tab. Get ready untuk makan!!!
Puncher terbaek untuk punch ketam. Dah macam punch settt. Hihihi. Kitorang yang rasmikan, orang kat meja lain tengok jeee.
Selesai !!!! Burppppp...kenyang alhamdulillah
Lepas makan wajib posing =) Picture credit to
Fetty
In overall masing-masing berpuas hati dengan makanan malam tu. Perut masing-masing penuh dengan seafood. Tapi takpe we all pakai
Premium Beautiful
& minum
lactolite
. So takde masalah perut buncit ye. Thank you pada CDM Hanis, CDM Raz & CDM Sha sebab sudi dinner dengan kami. InsyaAllah lain masa kita dinner lagi okay :)
From strangers we become business partners, from business partners we become friends. That's the beauty of this business.
No worries. Every steps will be guided. Let's make your DREAM COME TRUE!!!