Assalamualaikum & salam jumaat semua.
Sebelum cerita about Osaka, Kobe and Kyoto yang bakal kami pergi this coming 22 Feb until 27 Feb nanti, nak cerita sikit flashback tahun 2012.
Sebenarnya, since 2012 dah pasang angan-angan nak ke Jepun suatu hari nanti. Tak kisahlah dengan duit sendiri atau sponsored trip. That time I was pregnant Ifra Afiqah, our second daughter. Masa tu tengah famous tv series Awan Dania lakonan Scha Alyahya. There were scene dia berlakon di Jepun, the weather, the beautiful scenery, the culture, the food really makes me feel wanna go to Japan masa tu jugak! Hehe. So since then cakap dekat husband, ONE DAY KITA PERGI JEPUN TAU!
You know, dream do come true if we work for it. Alhamdulillah kami dah jumpa jalan yang mudah, terang lagi bersuluh. Bisnes bersama Sahajidah Hai-O (SHOM) telah membuka peluang seluas-luasnya untuk kami capai impian travel satu dunia! Lagi best, bila travel bersama SHOM, everything is FREE!!! Layanan 5 star yang kami terima sepanjang melancong bersama SHOM memang membuatkan kami tak nak lepaskan peluang melancong ke destinasi-destinasi seterusnya!!
Pada mulanya SHOM hanya umumkan destinasi ke Osaka, Japan. Tapi rupa-rupanya SHOM memang nak bagi lebih! Kami akan ke Kobe dan Kyoto juga!! Ya Allah perasaan gembira yang tak terkata.
Kami akan bertolak dari KLIA ke Kansai Airport dengan penerbangan Cathay Pacific Airways. Semalam google tentang 'Top 20 Best Airlines in The World 2015' and Cathay Pacific Airways adalah no. 3 terbaik selepas Qatar Airways & Singapore Airlines! Alhamdulillah merasa naik flight bertaraf 5 bintang dan tak perlu fikir tentang kos. Semua ditanggung beres oleh pihak syarikat.

Alhamdulillah dah pernah merasa naik Qatar Airways masa trip from Paris to Kuala Lumpur in 2013, Singapore Airlines in 2014 sewaktu trip ke Gold Coast, Emirates semasa trip to Vienna and Budapest in 2015 and next Cathay pacific Airways pula :)
Kali ni seramai 300 orang usahawan SHOM akan terbang ke Jepun, bayangkan 300 orang bakal menikmati layanan VVIP. Bukan calang-calang syarikat mampu berikan sebegini, semestinya syarikat yang stabil dan kukuh. Syukur sangat berada di bawah naungan SHOM. Semoga SHOM terus maju dan bertapak kukuh di Malaysian dan serantau Asia.
Ok back to Osaka, Kobe, Kyoto story. Kali ni kami akan pergi bersama-sama TDC travel buddies tak lain tak buka Ieja, Yong & Syikin. Bila line up macam ni teringat waktu mula bisnes dulu bermula dengan kami berempat and now our team TDC semakin ramai dan berkembang. Semoga kami terus bersatu hati untuk memajukan team. Aamiin. Memang confirm seronok bila pergi dengan geng yang sekepala.
Since itinerary dah dapat, so bolehlah tengok dulu tempat yang bakal kami lawati nanti.
Sampai je di Osaka nanti, our first destination will be Universal Studio Osaka! Haaaa awal-awal lagi dah excited!! Sesungguhnya Universal Studio Singapore pun daku belum sampai. Lol!
The next day kami akan ke
Shinsaibashi
. Free and easy. Shopping sampai lebam! And we plan to go to
Hard Rock Café Osaka
. Every city yang kami pergi memang akan cari HRC untuk tambah koleksi. So kalau ada yang nak kirim tu bolehlah kirim sebelum kami berangkat ye.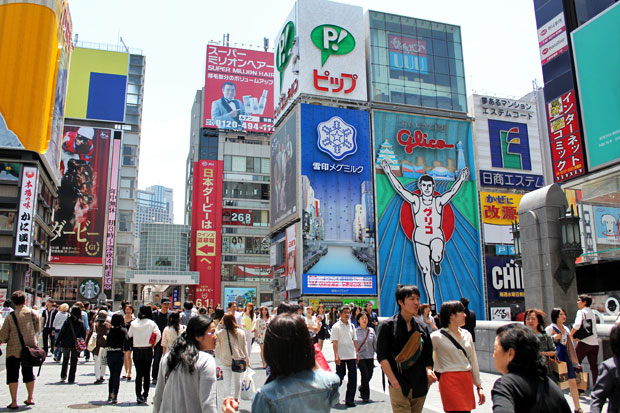 Wajib bergambar dengan Glico man itu!!

Kami juga akan melawat ke Kiyozumi Temple, Nishijin Kimono Center and Gion Street. Kimono Center..yeay!!


Cantik!!
Tak sabar nak ber-kimono!!
Ohh this one I like the most! Macam dalam cerita Jepun kan..
Sanda Premium Outlet
. Shopping lagi!!!
Sanda Premium Outlet in Kobe
Kobe Mosque.
Tak sabar nak solat di sini
Kata orang jauh perjalanan luas pengalaman. And as a muslim, satu kelebihan apabila kita dapat beribadat di tempat orang. mengingatkan kita akan kebesaran Allah S.W.T.
Harbourland, Kobe.





Tak sabar rasanya..tinggal 16 hari sahaja lagi...!!
Special lagi bulan February is our Anniversary month, so this is my present to my husband. Honeymoon percuma lagi kita!! Buat bisnes sama-sama, holiday pun mestilah bawa husband juga. Tambah seronok bila bercuti ala ala honeymoon gitu.
Dah sedang eloklah nak mula packing ni. Sikit-sikit lama-lama siaplah hehe. Biar prepare awal supaya taka da apa yang tertinggal.
Till then, wait for our live update from Osaka, Kobe and Kyoto ya!!

Thank you for reading!